iScaf Version 8 can use Point Cloud Technology
iScaf will handle point clouds in 2018.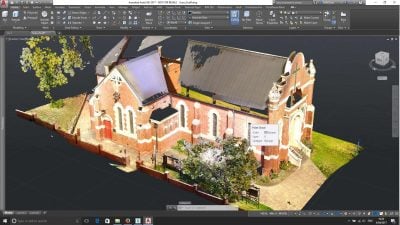 PointClouds are extremely accurate site surveys useful in identifying obstacles such as powerlines, trees, plumbing and existing structural obstacles that may not be on your client's supplied plans. This makes it simple to identify safety and design issues in your drawings, allowing you to create a design that identifies and accomodates these obstacles before delivering onsite. It also creates visually pleasing 3D plan views that scroll and rotate in your drawing in real time – no separate, tedious, time consuming rendering is needed to generate these images once the PointCloud is imported into iScaf.
The example shows a church scanned with the "Faro Focus". The scan was then used to create an RCP (Recap Project) file and the 1.4 GIG RCS file as part of a standard AutoCAD DWG format.
iScaf could then easily open the DWG and it was automatically scaled so the normal "iScaf Build Plan" and "Make Wall" Functions just worked as normal.
We were very pleased with the short amount of time that it took to be able to generate the drawings and material list shown below.
Click on any of the images for a closer view.