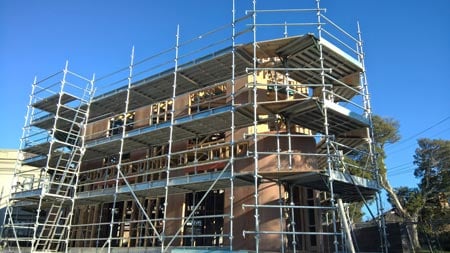 iQuote is a full featured quotation management system for the Scaffolding industry. This is the first point of entry for your scaffold quotes which allows you to store and print professional quote or tender documents for your clients. It will assist in Job Costing because all your labour, rental and transport budgets will be stored in iQuote.
This module acts as a sophisticated CRM specific for your scaffold business. To start off, you create a project and link it to a client prospect where the project can contain an unlimited number of stages with hire, rental, labour, transport and sundries.
You can then print the quote together with your terms and conditions or instantly email it to your client.
Click here to view one of the many quote style sheets available for your quote format.
Each salesperson in your company can print a list of quotes by customer and project for any date range so quotes can be followed up. iQuote can print a number of different reports to track the progress of your quotes and you can export all the information to spread sheet if you wish to create your own reports.
For a manager, at any point in time, he or she can print a report showing a total list of quotes by Date Quoted / Quote result date range / Sales Person / Job Category and the stage of the quote based on WON / LOST / or PENDING. This list of quotes will show Grand Totals of Rental, Transport, Labour, Sales and Sundries. A great report to analyse your sales pipeline.
iQuote can be fully integrated with iRent ERP invoicing & inventory
Please click here for the latest iQuote features for 2018.